With the increasingly growing trend of online retail, more and more businesses are turning to e-commerce websites. The scary statistic if you are one of these businesses with an e-commerce website, is that you are probably losing out on between 50 to 80% of all online sales.
There are many reasons behind this, but the most common two are:
Technical glitches – these could be payment gateway issues or a problem on your website
Slow response time – even if everything works correctly, slow Internet speeds can make page loading times excessive, and you stand a good chance of losing a customer at this point
To counter this, you need to install an abandoned cart plugin that will allow you to target these potential customers and get them back. You are dealing with a bottom of the funnel customer who is actively seeking to buy your product or service and has gone to the trouble of adding it to their cart. All that is left is for them to pay for it.
How do cart recovery plugins work?
These plugins will automatically send out a series of automated emails to the potential customer, inviting them to return to your online store and complete the transaction. It is customary to offer a discount coupon to entice the customer to come back. While this is not a necessary step, we have found that the sites offering a coupon get a better uptake on their abandoned cart recovery than those that offer nothing.
This leads to a very interesting dilemma for many e-commerce store owners, as most of them will allow a potential client to go through the entire order process and then just before making payment, will only then require the client's email address, which poses the threat of losing the customer all-together. The earlier you can get the email address in the process, the higher the percentage of abandoned carts customers you will be able to communicate with.
A well set up and implemented premium recovery program can get you as much as 50% of lost sales back. On average our clients that opt for the FREE plugin will get 15% to 20% back. So working on the low end of this spectrum where you initially are only losing 50% of sales, you should be able to pull in an extra 7.5% of sales every month.
The plugins we recommend:
WooCommerce Cart Abandonment Recovery is a free plugin from Cart Flows. It is a lightweight version of their premium plugin, but it does a great job. It comes with 3 automated emails that can be sent out at various set times from when the cart gets abandoned.

You can edit these existing templates for your business or create your own customised options.  We would recommend using the tried and tested templates.
You can also create a discount coupon directly from the email template, by simply activating the Create Coupon section and adding a check in the checkbox as per the below image.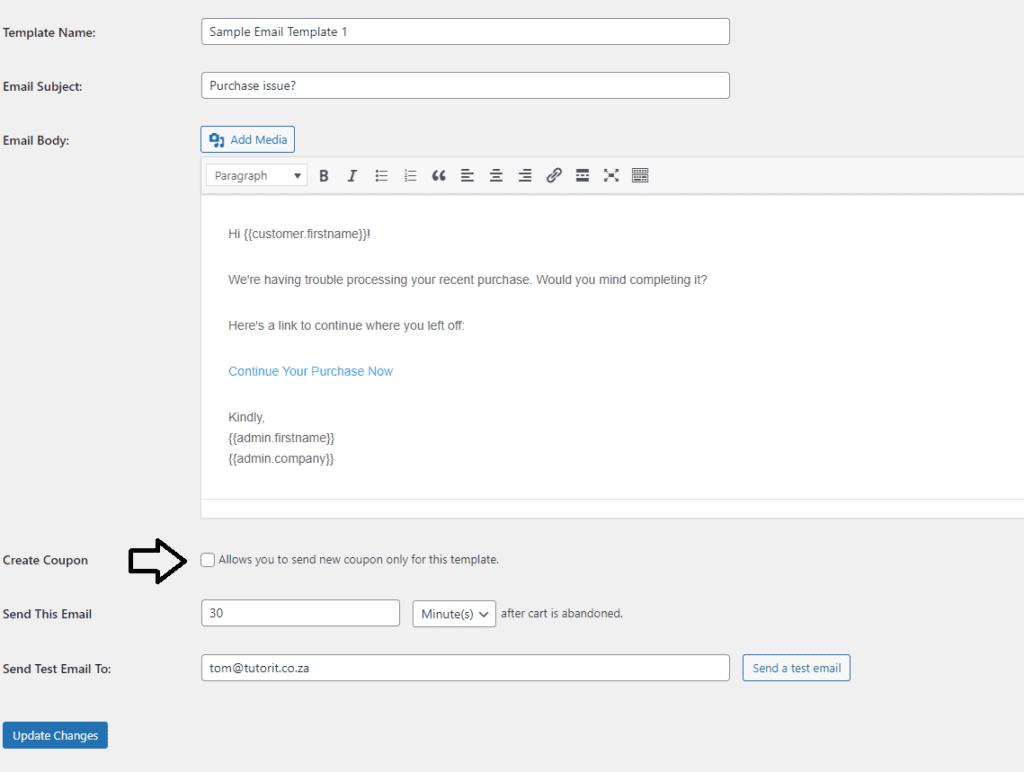 As an alternate plugin option that offers more features, we would then recommend the Cart Flows Premium plugin or the WooCommerce Abandoned Cart Recovery plugin.
Feel free to click on these links for further information.
https://woocommerce.com/products/abandoned-cart-recovery/
A final alternative for those of you who use MailChimp is to install MailChimp for WooCommerce and then to create automations on MailChimp. Please note that this will require you to have the Standard version of MailChimp for this.
Feel free to contact me with any questions or assistance: tom@mailmen.co.za